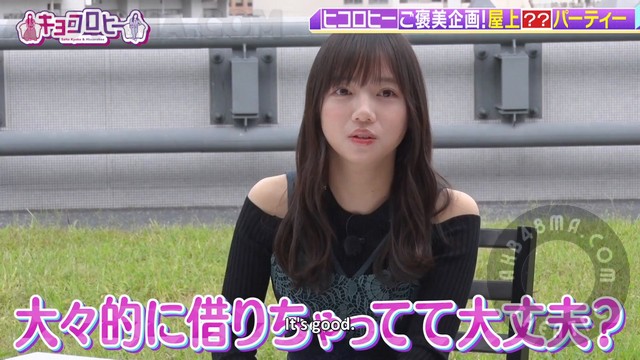 231023 Kyoccorohee EP120.mp4
Size: 491.54 MB | Duration: 00:29:51 | Video: 1920×1080, Bit rate: 2581 Kbps, 29.970 fps | Audio: 192 Kbps, 48 Khz

Download From Keep2Share
231020.Kyoccorohee.134.YT.Extras.mp4
231023.Kyoccorohee.EP120.mp4
Download From AlfaFile
231023.Kyoccorohee.EP120.rar
Original show title: キョコロヒー
Subtitle: のためのご褒美企画!!ニューヨーク嶋佐と高級焼肉を堪能しよう!! – A reward project for you!! Enjoy high-quality yakiniku with Shimasa, New York!!
Episode: 119
MC: Saito Kyoko (Hinatazaka46), Hiccorohee
Special guest: Shimasa Kazuya (New York)
Genre: Variety
Broadcast network: TV Asahi (TVer Version)
Broadcast date: 2023-10-23
Length: 23 minutes 43 seconds
Video: h264 (High) (avc1 / 0x31637661), yuv420p(tv, bt709/unknown/unknown, progressive), 1920×1080 [SAR 1:1 DAR 16:9], 2361 kb/s, 29.97 fps, 29.97 tbr, 90k tbn (default)
Audio: aac (LC) (mp4a / 0x6134706D), 48000 Hz, stereo, fltp, 190 kb/s (default)

and

YouTube Bonus for EP119:
Kyoccorohee YouTube Extras EP134
Source: Douga, hajimete mimashita (TV Asahi Official YouTube Channel) – https://www.youtube.com/watch?v=mc4w_ue2FrU&list=PLRlGJA3aVEXA7C2CSygke6YO6jRjpY5Ah

Hinatazaka46 member Saito Kyoko and comedian Hiccorohee are the MCs for the show. They discuss everydays problems and try to solve them.